Healthy vegan dishes
The impact of the meat and dairy industry on climate change and the ethical objections to the atrocities of the bio industry mean that more and more people are going to eat vegan. A vegan diet is probably the only real way to reduce your impact on planet earth, not only in terms of greenhouse gases, but also in terms of acidification, eutrophication (fertilization of the water that suffocates aquatic life due to the abundance of algae), land use and water use.
Vegan tradition
A number of populations in India traditionally eat vegan food (mostly for religious reasons) and that is why vegan food in Indian cuisine has become much more common than it does for us. With the fantastic herbs and spices in Indian cuisine, a lot of variety is possible.
Vegan kitchen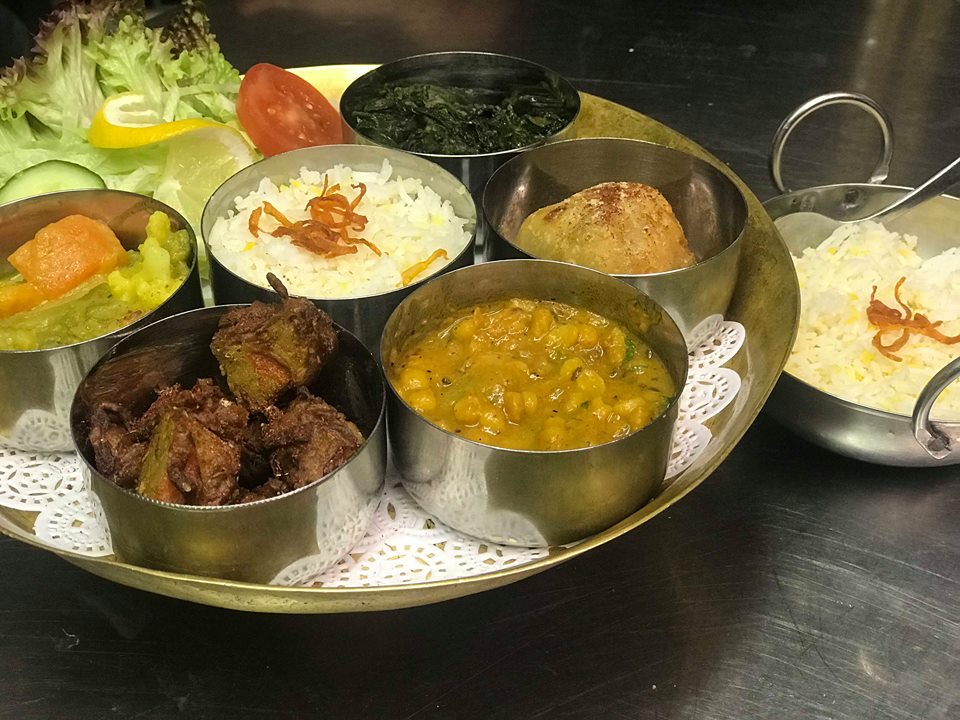 Restaurant Indian Way also wants to make a contribution and has adjusted her card to offer a wide choice of vegan dishes for the vegan. Like the vegan rice table, for example. We make everything ourselves and do not use convenience products, so that we know exactly which dishes are vegan. So in our dishes no unclear E-numbers or gelantine. We use vegetable-based oil and our ghee (clarified butter) is made from palm oil and not from milk. The dishes are tied with a vegetable stock. The dipping sauce served with the onion bhaji and vegetarian samosa is vegan and made from tamarin. See also our allergen map on our website.
Vegan dishes
On our menu there are now 5 vegan starters, 6 vegan main courses and 6 vegan side dishes. In addition to the fruit dishes, our dessert menu also contains vegan mango-papaya ice cream.
Vegan starters:
7. DAL SOUP € 4,50
A tasty lentil soup from northern India, mild flavor
8.MULIGATWONY SOUP €4,50
A curry soup, flavored with coconut, lemon and fresh herbs. A littlebit spicy.
11. VEGETABLE SAMOSA € 4,50
Pastry pasties filled with vegetables
12. ONION BHAJI € 5,00
Deep fried onion balls with chickpeas flour and fresh herbs.
14. ALLO CHAAT €5,00
Specially seasoned fried potatoes
Vegan main courses:
53. BHINDI BAGAN (medium) € 15,50
Okra and eggplant baked with garlic, ginger and fresh coriander
54. DAL KOSORI (medium) € 15,50
Lentils with coconut milk in a medium curry
55. NAVRA JAL-FERIZI (spicy) € 15,50
A spicy dish of mixed vegetables and a variety of fresh herbs
56. VEGAN THALI € 19,00 Even without meat, you can enjoy this Indian variation on the rice table, various dishes served in small portions
57. TOK BAGUN (medium) € 15,50
A curry with baked tomates and eggplant
60.MIXED veg BIRYANY €16,00
Vegan side dishes *:
77. MIXED VEGETABLES BHAJI € 7,00
Slightly spicy fried vegetable dish
78. BOMBAY ALLO € 7,00
Spicy potatoes
79. MUSHROOM BHAJI € 7,00
Fresh mushrooms, slightly spicy
80. SAG BHAJI € 7,00
Spinach seasoned with garlic and onions
81. DAL TARKA € 7,00
Special red lentils with garlic, ginger and onion
85. BHINDI BHAJI € 7,00
Fried Okra, fresh herbs
* We make everything fresh, so the cook can not spend more than 4 or 5 dishes at the same time per table. The choice is limited by crowds.
Vegan desserts
In addition to the fruit dishes, the mango-papaya ice cream is vegan.